18th April 2012 - News release
LEVODOPA-CARBIDOPA INTESTINAL GEL CLINICAL TRIAL RESULTS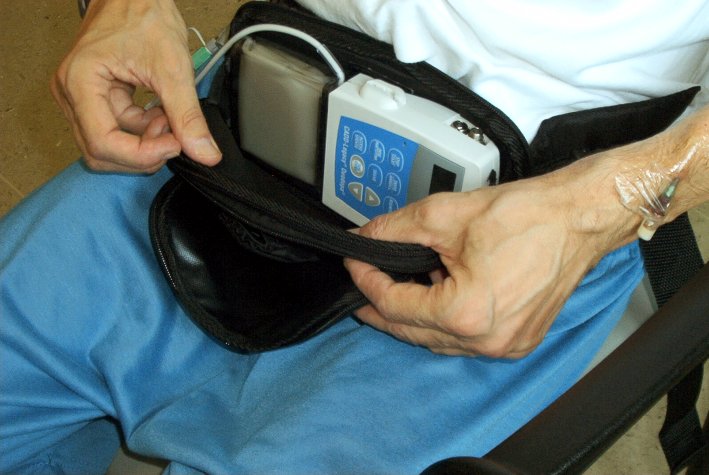 Abbott's have announced the results of the Phase 3 clinical trial in the U.S.A. of their investigational treatment for advanced Parkinson's Disease. The treatment involved levodopa-carbidopa intestinal gel (LCIG). The treatment is already approved in many countries outside the U.S.A. as Duodopa. LCIG contains the same active medication as Sinemet, which is levodopa-carbidopa IR tablets. LCIG was administered using a procedurally-implanted tube connected to a portable pump that delivers the medication directly into the small intestine, where it is absorbed into the bloodstream, providing a continuous delivery of medication during the 16 hours a day of pump use.
Participants had had Parkinson's Disease for an average of over 10 years, and experienced an average of over 6 hours "off" time. Their average "off" time decreased by 4 hours per day with LCIG, which was 1.9 fewer hours of "off" time compared to levodopa-carbidopa IR in tablet form. Adverse events occurred in 95% of people on LCIG, and 100% of people on levodopa-carbidopa IR tablets. The most common adverse events were complication of device insertion (51%), abdominal pain (42%), procedural pain (32%), nausea (25%), constipation (21%), orthostatic hypotension (18%), post-operative wound infection (17%), and incision site erythema (16%). Treatment-related serious adverse events were reported in 14% of the LCIG patients, and 21% of the levodopa-carbidopa IR tablet patients. For more information go to the News release. For a printable version of this article click here. For more current news go to Parkinson's Disease News.

E-MAIL NOTIFICATION : If you would like to be notified by e-mail when any new articles are added to Parkinson's Disease News, please merely e-mail [email protected] with the message "subscribe". No form of identity is required. E-mail addresses are not used for any other purpose.