17th February

2012 - New research

ROTIGOTINE (NEUPRO) CLINICAL TRIAL RESULTS

Parkinsonism Related Disorders [2012] Feb 9 [Epub ahead of print] (L.W.Elmer, E.Surmann, B.Boroojerdi, J.Jankovic) Complete abstract

A clinical trial assessed the long terms safety and tolerability of Neupro® (Rotigotine Transdermal System) in people with early idiopathic Parkinson's Disease. Neupro® (Rotigotine Transdermal System) is a dopamine agonist that is applied to the skin in order to deliver rotigotine over a 24-hour period. For more information go to Neupro.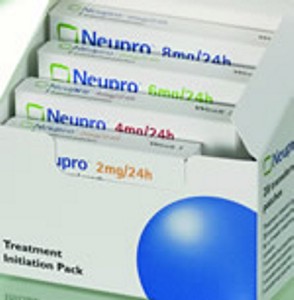 The average exposure to Neupro was just over 5 years. Less than half of the people using Neupro completed the clinical trial. Nearly a quarter (24%) withdrew because of adverse events. Some of those involved (6%) ceased using Neupro because of lack of efficacy. The most common adverse events were : somnolence (23%), falls (17%), peripheral edema (14%), nausea (12%), application site reactions (12%). Just over a quarter (26%) did not initiate L-dopa. Dyskinesias were reported by a quarter (25%) of patients. The vast majority of those reported their first episode of dyskinesia after initiating L-dopa. The average scores on the UPDRS (a Parkinson's Disease symptom questionnaire) remained below where they started for up to two years. For a printable version of this article click here. For more current news go to Parkinson's Disease News.
In April 2008, Neupro was withdrawn from use in the U.S.A. because specific batches of Neupro had deviated from their specification. In June 2009, UCB proposed new refrigerated storage conditions to alleviate crystallization on the patches. UCB has already made progress in reformulation and remains committed to bringing Neupro to U.S. patients. For more information click here.

E-MAIL NOTIFICATION : If you would like to be notified by e-mail when any new articles are added to Parkinson's Disease News, please merely e-mail [email protected] with the message "subscribe". No form of identity is required. E-mail addresses are not used for any other purpose.