14th November 2011 - New blog
THE DOPAMINE CHRONICLES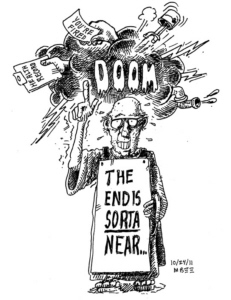 The Dopamine Chronicles is the new Parkinson's Disease blog of cartoonist Martin Bee. His blog specialises in Parkinson's Disease cartoons. In the words of Martin Bee "Any of you diagnosed with this disease probably can relate to the reaction. The Dopamine Chronicles is all about me continuing my art, my toons and so on. So I decided to do (almost) a cartoon a day about Parkinsonís and me." Martin Bee is a 60 year old Vietnam Veteran who was a Navy Corpsman stationed with the 1st Marine Division whilst he was in Vietnam. After leaving the Navy, he graduated in Art and then worked in design and illustration. Despite being diagnosed with Parkinson's Disease, which included a shaking right hand, he could still draw. Although Parkinson's Disease hindered his drawing technique, he altered the techniques he used in order to overcome the problems it caused him. For The Dopamine Chronicles web site click here.

For more current news go to Parkinson's Disease News.

E-MAIL NOTIFICATION : If you would like to be notified by e-mail when any new research, news reports, new books, or new resources are added to Parkinson's Disease News, please merely e-mail [email protected] with the message "subscribe". No form of identity is required. E-mail addresses are not used for any other purpose.