18th September 2011

- New book

PARKINSON'S DISEASE : NON-MOTOR AND NON-DOPAMINERGIC FEATURES

C.Warren Olanow (Editor), Fabrizio Stocchi (Editor), Anthony Lang (Editor)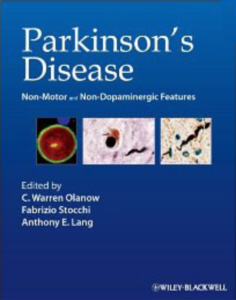 Publisher's description : Over 50% of Parkinson's patients suffer symptoms unrelated to the dopamine system. The dopaminergic features of Parkinson's Disease are now well controlled in most patients. Clinicians are increasingly focused on non-dopaminergic symptoms, which can lead to disability and severely restricted quality of life in patients. A world-class Editorial team has assembled a stellar roster of scientists and clinicians to present the clinical importance of non-dopaminergic pathology in Parkinson's Disease. Significant research is examined and its relevance to clinical practice, both now and in the future, is assessed. Click here for more details. For more current news go to Parkinson's Disease News. For more books concerning Parkinson's Disease go to Parkinson's Disease Books.
E-MAIL NOTIFICATION : If you would like to be notified by e-mail when any new research, news reports, new books, or new resources are added to Parkinson's Disease News, please merely e-mail [email protected] with the message "subscribe". No form of identity is required. E-mail addresses are not used for any other purpose.