12th May 2011 - New research
DID GENERAL MACARTHUR HAVE PARKINSON'S DISEASE ?
Neurology [2011] 76 (19) : 1668-1672 (Bowen LN, Malaty IA, Rodriguez RL, Okun MS.) Complete abstract
Historians have often claimed that General MacArthur had Parkinson Disease, and that his illness may have influenced his military judgment. General MacArthur (1880-1964) was Chief of Staff of the U.S. Army and played a prominent role as a Field Marshall in World War 2. For more information go to General MacArthur. It is already well established that Hitler had Parkinson's Disease throughout World War 2, and that he was preoccupied with it in the last days of World War 2. For more information go to Adolf Hitler and Parkinson's Disease.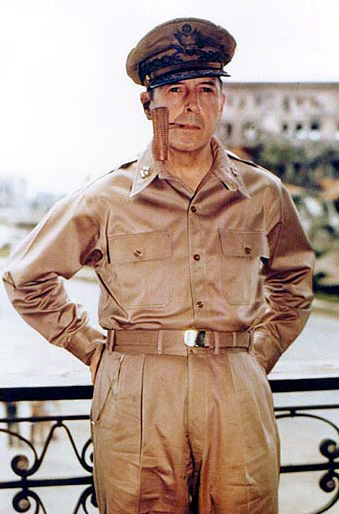 Researchers reviewed the literature, medical studies, images and videos concerning General MacArthur as well as his personal writings to determine the likelihood that he had Parkinson's Disease. They examined his facial profiles, facial expression, gait, posture, and movement. Handwriting samples were compared for evidence of micrographia. Videos and handwriting samples were independently reviewed by neurologists. Video footage showed evidence of progression of head tremors, postural action tremors, and also voice tremors. However, there were no indications of a masked face, rigidity, bradykinesia, or resting tremor on film footage. There was no evidence of micrographia in handwriting samples either. Oral testimony and letters written by an attending gastroenterologist present at MacArthur's death in 1964 revealed no evidence of parkinsonian features. The researchers therefore concluded that General MacArthur had essential tremor that became progressively worse, but that it did not progress to Parkinson's Disease. For more current news go to Parkinson's Disease News.
E-MAIL NOTIFICATION : If you would like to be notified by e-mail when any new research, news reports, new books, or new resources are added to Parkinson's Disease News, please merely e-mail [email protected] with the message "subscribe". No form of identity is required. E-mail addresses are not used for any other purpose.
LOW RESOLUTION VERSION : There is a low resolution version of PARKINSON'S DISEASE NEWS INTENDED FOR THOSE PEOPLE THAT EITHER : use 800x600 resolution on their monitors, or have eyesight difficulties, or slow Internet speeds. GO TO LOW RESOLUTION VERSION
Parkinson's Disease News details all significant new research, news reports, new books, and new resources concerning Parkinson's Disease and those medical disorders that often coincide with Parkinson's Disease. It is compiled from an analysis of all newly published research, news reports, new clinical trials, all newly published books, and new web sites. A summary and analysis of the new research are provided, as well as links to the complete abstracts and news reports