21st February 2011 - New research
ROTIGOTINE (NEUPRO) CLINICAL TRIAL RESULTS
Movement Disorders [2011] 26 (1) : 90-99 (Trenkwalder C, Kies B, Rudzinska M, Fine J, Nikl J, Honczarenko K, Dioszeghy P, Hill D, Anderson T, Myllyla V, Kassubek J, Steiger M, Zucconi M, Tolosa E, Poewe W, Surmann E, Whitesides J, Boroojerdi B, Chaudhuri KR) Complete abstract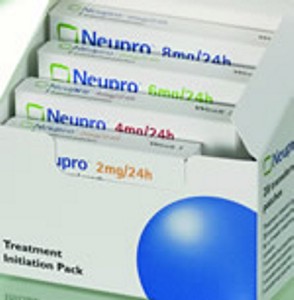 People with Parkinson's Disease who had unsatisfactory early-morning motor symptom control were given either rotigotine (2mg-16mg rotigotine every 24 hours) or a placebo. Neupro® (Rotigotine Transdermal System) is a dopamine agonist that is applied to the skin in order to continuously deliver rotigotine over a 24-hour period. For more information go to Neupro. Movement symptoms had improved in comparison to the use of a placebo, but not greatly as was claimed by the researchers. Sleep had also improved in comparison to a placebo. The most frequently reported adverse events were nausea (rotigotine 21% v 9% placebo), application site reactions (rotigotine 15% v 4% placebo), and dizziness (rotigotine 10% v 6% placebo).
In April 2008, Neupro was withdrawn from use in the U.S.A. because specific batches of Neupro had deviated from their specification. In June 2009, UCB proposed new refrigerated storage conditions to alleviate crystallization on the patches. UCB has already made progress in reformulation and remains committed to bringing Neupro to U.S. patients. For more information go to the News release. For more current news go to Parkinson's Disease News.
E-MAIL NOTIFICATION : If you would like to be notified by e-mail when any new research, news reports, new books, or new resources are added to Parkinson's Disease News, please merely e-mail [email protected] with the message "subscribe". No form of identity is required. E-mail addresses are not used for any other purpose.
Parkinson's Disease News details all significant new research, news reports, new books, and new resources concerning Parkinson's Disease and those medical disorders that often coincide with Parkinson's Disease. It is compiled from an analysis of all newly published research, news reports, new clinical trials, all newly published books, and new web sites. A summary and analysis of the new research are provided, as well as links to the complete abstracts and news reports