31st August 2010 - New review
STALEVO FOR PARKINSON'S DISEASE
Stalevo is a drug for Parkinson's Disease that is a combination of L-dopa, carbidopa and entacapone. That is the same as Sinemet plus entacapone. For more information go to Stalevo. The therapeutic constituent is L-dopa. Entacapone is a COMT inhibitor, which is able to slow down the breakdown of L-dopa. Stalevo is intended for the treatment of people with Parkinson's Disease who experience signs and symptoms of end-of-dose "wearing off" [1].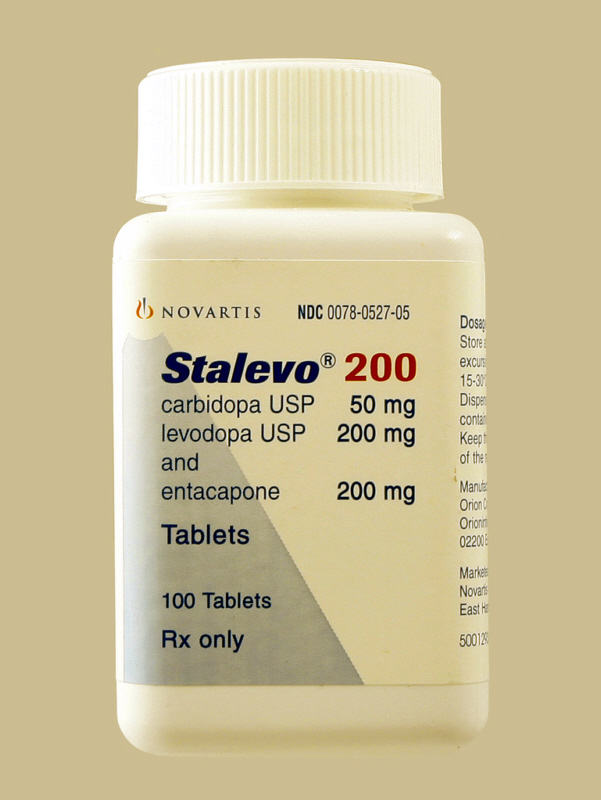 A series of studies showed that Stalevo and corresponding dosages of L-dopa / carbidopa plus entacapone had the same effect [2]. A clinical advantage of Stalevo is that patients can take one pill rather than two (or more) separate tablets [2]. Over 70% of the patients that added entacapone to their Sinemet (or the equivalent), or that switched to Stalevo, which includes all three, felt that they were clinically improved. Over 80% of them experienced a reduction in fluctuations [3]. About 8% of people that changed to Stalevo discontinued treatment, mostly because of adverse events. There was also a tendency for Stalevo to initiate or worsen dyskinesia [4]. Stalevo resulted in an improvement in symptoms [4] [5] [8] [11]. There was also an improvement in "on" time [9] [10]. Patients found Stalevo more simple to dose, more convenient to use, easier to handle, easier to remember and easier to swallow [7]. A majority of patients also preferred Stalevo to L-dopa and carbidopa when in a sustained release form, and improved their symptoms when they changed over to it [6].
The U.S. Food and Drug Administration (FDA) is evaluating clinical trial data that may suggest that patients taking Stalevo may be at an increased risk for developing prostate cancer. Patients taking Stalevo were compared to those taking carbidopa and levodopa. The number of people taking Stalevo with prostate cancer was small, but it was still four times what would otherwise be expected. The FDA consequently suggested that "Patients should not stop taking their medication unless directed to do so by their healthcare professional" [12]. They are also evaluating clinical trial data that suggest patients taking Stalevo may be at an increased risk for cardiovascular events (heart attack, stroke, and cardiovascular death) [13]. For more current news go to Parkinson's Disease News.
E-MAIL NOTIFICATION : If you would like to be notified by e-mail when any new research, news reports, new books, or new resources are added to Parkinson's Disease News, please merely e-mail [email protected] with the message "subscribe". No form of identity is required. E-mail addresses are not used for any other purpose.
Parkinson's Disease News details all significant new research, news reports, new books, and new resources concerning Parkinson's Disease and those medical disorders that often coincide with Parkinson's Disease. It is compiled from an analysis of all newly published research, news reports, new clinical trials, all newly published books, and new web sites. A summary and analysis of the new research are provided, as well as links to the complete abstracts and news reports