14th August 2010 - New review
DUODOPA FOR PARKINSON'S DISEASE
Duodopa is a combination of L-dopa and carbidopa in the form of a gel. It is administered throughout the day using a portable pump directly into the small intestine through a surgically placed tube. For the Duodopa fact sheet.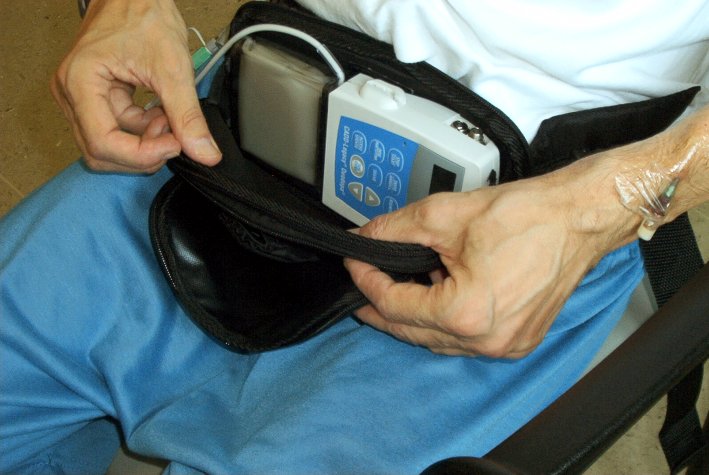 The method ensures a flow of L-dopa that can be adjusted according to the patient's individual needs [1]. It enables more consistent plasma concentrations of L-dopa [3]. Significant improvements were found with its use [2] [5] [6]. The side effects are similar to those observed with oral administration of L-dopa and carbidopa [3] [4]. Dislocation of the intestinal tube to the stomach was the most common technical problem [2] [3] [4], occurring in nearly 70% of the patients during the first year [4]. Whether or not L-dopa consumption was reduced or increased with infusion as compared to oral therapy differed according to the study [2] [4] [6]. For more current news go to Parkinson's Disease News.
E-MAIL NOTIFICATION : If you would like to be notified by e-mail when any new research, news reports, new books, or new resources are added to Parkinson's Disease News, please merely e-mail [email protected] with the message "subscribe". No form of identity is required. E-mail addresses are not used for any other purpose.
Parkinson's Disease News details all significant new research, news reports, new books, and new resources concerning Parkinson's Disease and those medical disorders that often coincide with Parkinson's Disease. It is compiled from an analysis of all newly published research, news reports, new clinical trials, all newly published books, and new web sites. A summary and analysis of the new research are provided, as well as links to the complete abstracts and news reports