29th July 2010 - New research
NEBICAPONE - A NEW COMT INHIBITOR FOR PARKINSON'S DISEASE
CNS Neuroscience & Therapeutics [2010] Jul 23 [Epub ahead of print] (Ferreira JJ, Rascol O, Poewe W, Sampaio C, Rocha JF, Nunes T, Almeida L, Soares-da-Silva P) Complete abstract
Nebicapone, is a new COMT inhibitor undergoing clinical trials for the treatment of motor fluctuations in Parkinson's Disease. COMT inhibitors help to prolong the effect of L-dopa. The two COMT inhibitors that have already being used to treat Parkinson's Disease are Tolcapone (Tasmar), and Entacapone (Comtan), which is also marketed as Stalevo in a combination with L-dopa and carbidopa.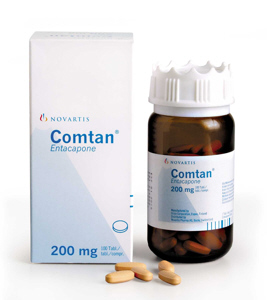 A clinical trial compared the use of Nebicapone (50 mg, 100 mg, 150 mg) with Entacapone (200 mg) or placebo administered with L-dopa/carbidopa (Sinemet) or levodopa/benserazide (Madopar). The 150mg dosage of Nebicapone were found to be more effective than the existing COMT inhibitors, by decreasing the off time by 81 minutes in comparison to Entacapone, and by 106 minutes in comparison to the placebo. The 50mg and 100mg dosages of Nebicapone failed to have a significant effect in reducing off time. Treatment-emergent adverse events were reported by 32% to 49% of patients in any treatment group, with no observed dose relationship in the Nebicapone groups. Liver transaminases were elevated in 8% of the 150mg Nebicapone group. For more current news go to Parkinson's Disease News.
E-MAIL NOTIFICATION : If you would like to be notified by e-mail when any new research, news reports, new books, or new resources are added to Parkinson's Disease News, please merely e-mail [email protected] with the message "subscribe". No form of identity is required. E-mail addresses are not used for any other purpose.
Parkinson's Disease News details all significant new research, news reports, new books, and new resources concerning Parkinson's Disease and those medical disorders that often coincide with Parkinson's Disease. It is compiled from an analysis of all newly published research, news reports, new clinical trials, all newly published books, and new web sites. A summary and analysis of the new research are provided, as well as links to the complete abstracts and news reports