14th April 2010 - New research
THE EFFECT OF NEUPRO ON PARKINSON'S DISEASE

Evidence of Neupro (rotigotine transdermal system) improving symptoms of Parkinson's Disease was presented at the 62nd American Academy of Neurology annual meeting in Canada. Neupro (Rotigotine) is a dopamine agonist used with Parkinson's Disease that, via a skin patch, provides a slow and constant supply of Rotigotine over the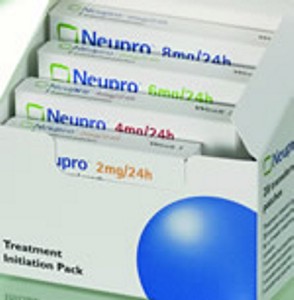 course of 24 hours. For more information go to Neupro. Rotigotine showed significantly greater improvement than the use of a placebo in early morning muscular symptoms, sleep quality, fatigue, mood, cognition, attention and memory. The effect persisted over a long period of time. The most frequently reported adverse events were nausea (21%), application site reactions (15%), and dizziness (10%). However, the use of Neupro can cause a wide variety of, sometimes serious, side effects. The use of any dopamine agonist, including Neupro, will also eventually cause a decrease in the sensitivity of the same dopamine receptors that it is intended to stimulate.
In April 2008, Neupro was withdrawn from use in the U.S.A. because specific batches of Neupro had deviated from their specification. UCB is working with the U.S. FDA so that Neupro can be available to patients with early-stage Parkinson's Disease as soon as possible. Neupro is not approved for use in Canada either, but is available in Europe. For more information go to the News release. For more current news go to Parkinson's Disease News.
E-MAIL NOTIFICATION : If you would like to be notified by e-mail when any new research, news reports, new books, or new resources are added to Parkinson's Disease News, please merely e-mail [email protected] with the message "subscribe". No form of identity is required. E-mail addresses are not used for any other purpose.
Parkinson's Disease News details all significant new research, news reports, new books, and new resources concerning Parkinson's Disease and those medical disorders that often coincide with Parkinson's Disease. It is compiled from an analysis of all newly published research, news reports, new clinical trials, all newly published books, and new web sites. A summary and analysis of the new research are provided, as well as links to the complete abstracts and news reports