19th October 2009 - New research
THE EFFECT OF MAO INHIBITORS ON PARKINSON'S DISEASE
Cochrane Database of systematic reviews [2009] 4 : CD006661 (R.Caslake, A.Macleod, N.Ives, R.Stowe, C.Counsell) Complete abstract

Researchers compared the effect of MAO-B inhibitors on Parkinson's Disease with the use of dopaminergic drugs. MAO-B inhibitors that are commonly used with Parkinson's Disease are Selegiline (Deprenyl) and Rasagiline (Azilect). MAO-B inhibitors help to sustain the levels of dopamine. For more information go to MAO inhibitors.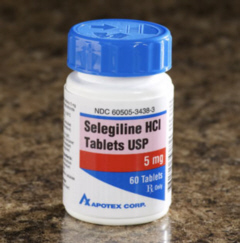 Those people taking MAO-B inhibitors were far more likely to require additional treatments than those taking L-dopa or dopamine agonists. MAO-B inhibitors were sufficient on their own in very few people. MAO-B inhibitors caused far fewer motor fluctuations than L-dopa, but a bit more than dopamine agonists. Withdrawals due to adverse events were far less common with MAO-B inhibitors than with dopamine agonists. The authors concluded that MAO-B inhibitors are one option for the early treatment of Parkinson's Disease, but that they have weaker symptomatic effects than L-dopa and dopamine agonists.

For more current news go to Parkinson's Disease News.

E-MAIL NOTIFICATION : If you would like to be notified by e-mail when any new research, news reports, new books, or new resources are added to Parkinson's Disease News, please double click on E-MAIL NOTIFICATION, or e-mail [email protected]. No form of identity is required. E-mail addresses are not used for any other purpose.

Parkinson's Disease News details all significant new research, news reports, new books, and new resources concerning Parkinson's Disease and those medical disorders that often coincide with Parkinson's Disease. It is compiled from an analysis of all newly published research, news reports, new clinical trials, all newly published books, and new web sites. A summary and analysis of the new research are provided, as well as links to the complete abstracts and news reports.