19th August 2009 - New research
THE LOSS OF SEX DRIVE IN PARKINSON'S DISEASE
The journal of sexual medicine [2009] 6 (4) : 1024-1031 (Kummer A, Cardoso F, Teixeira AL) Complete abstract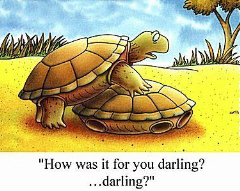 Sexual dysfunction is a frequent but neglected problem in Parkinson's Disease, as muscular problems are usually seen as the characteristic symptoms. However, nearly two thirds (65.6%) of people with Parkinson's Disease have been found to suffer a loss of sex drive. Over 42% of those men with Parkinson's Disease also complained of erectile dysfunction. Ageing, female gender, lower education, and depression were most associated with decreased sexual desire. Decreased interest in sex was not associated with antidepressants. The neurological features that were most associated with a greater loss of sex drive were predominance of motor symptoms on the left side of the body, autonomic dysfunction, and severer Parkinson's Disease. For more current news go to Parkinson's Disease News.
E-MAIL NOTIFICATION : If you would like to be notified by e-mail when any new research, news reports, new books, or new resources are added to Parkinson's Disease News, please double click on E-MAIL NOTIFICATION, or e-mail [email protected]. No form of identity is required. E-mail addresses are not used for any other purpose.
Parkinson's Disease News details all significant new research, news reports, new books, and new resources concerning Parkinson's Disease and those medical disorders that often coincide with Parkinson's Disease. It is compiled from an analysis of all newly published research, news reports, new clinical trials, all newly published books, and new web sites. A summary and analysis of the new research are provided, as well as links to the complete abstracts and news reports.