1st August 2009 - New research
THE WORLD'S HIGHEST PREVALENCE OF PARKINSON'S DISEASE
Neuroepidemiology [2009] 33 (3) : 225-230 (Racette BA, Good LM, Kissel AM, Criswell SR, Perlmutter JS.) Complete abstract

The world's highest prevalence of Parkinson's Disease by far has been found among the Amish religious community, where Parkinson's Disease is two to three times more prevalent than anywhere else in the world.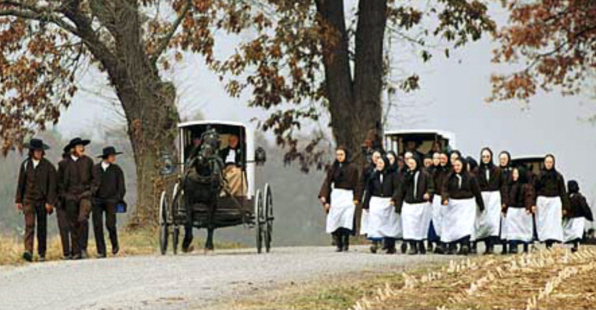 The Amish are primarily in the North East of the U.S.A. They are a devoutly religious community who believe in the literal interpretation of the Bible. They segregate themselves from other communities, wear traditional clothes, and live a traditional lifestyle that does not permit the use of electricity, television, radio, or telephones. For transport they use horses and carriages instead of cars, which they are not allowed to use. Most speak a German dialect known as Pennsylvania Dutch. For more information click here and here, and for a brief video of their lifestyle click here.
The prevalence of Parkinson's Disease amongst the Amish aged 60 or older has been found to be 5,703 per 100,000, which is enormously high. According to U.N.Data, 17% of the U.S. population is aged 60 or older. So the prevalence of Parkinson's Disease in the Amish community as a whole is 970 per 100,000. This is by far the highest prevalence of Parkinson's Disease in the world, and around three times the prevalence of the U.S.A., despite the U.S.A having the highest prevalence of any country. For more information go to the Prevalence of Parkinson's Disease. The Amish refuse to take out health insurance. They are also afflicted by genetic disorders. So it was thought that the cause might be genetic. However, the more closely related they were, the less they were affected. They are primarily involved in agriculture, and most of them use pesticides, but the effect of pesticides was not assessed by the researchers. For more current news go to Parkinson's Disease News.
E-MAIL NOTIFICATION : If you would like to be notified by e-mail when any new research, news reports, new books, or new resources are added to Parkinson's Disease News, please double click on E-MAIL NOTIFICATION, or e-mail [email protected]. No form of identity is required. E-mail addresses are not used for any other purpose.
Parkinson's Disease News details all significant new research, news reports, new books, and new resources concerning Parkinson's Disease and those medical disorders that often coincide with Parkinson's Disease. It is compiled from an analysis of all newly published research, news reports, new clinical trials, all newly published books, and new web sites. A summary and analysis of the new research are provided, as well as links to the complete abstracts and news reports.