14th June 2009 - New research
MEMANTINE FOR PARKINSON'S DISEASE DEMENTIA
Lancet Neurology [2009] Jun 9 [Epub ahead of print] (Aarsland D, Ballard C, Walker Z, Bostrom F, Alves G, Kossakowski K, Leroi I, Pozo-Rodriguez F, Minthon L, Londos E.) Complete abstract

The biochemistry of Dementia is completely distinct from that of Parkinson's Disease. However, dementia often occurs alongside Parkinson's Disease. Researchers tested the safety and efficacy of Memantine (an N-methyl D-aspartate [NMDA] receptor antagonist) in people with Parkinson's Disease Dementia. The primary measure of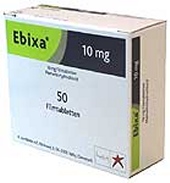 efficacy was clinical global impression of change (CGIC), which is not a precise measure of symptoms. It was concluded that "Patients with Parkinson's Disease Dementia might benefit from treatment with memantine, which was well tolerated" but that "Large-scale studies are now required to confirm" the preliminary findings. However, nearly a quarter of the participants did not complete the study due to adverse events, the difference in scores between those people taking Memantine and those taking a placebo was very marginal, there were no significant differences between the groups in secondary measures, and no comparison was made of the side effects caused by taking Memantine. For more current news go to Parkinson's Disease News.
E-MAIL NOTIFICATION : If you would like to be notified by e-mail when any new research, news reports, new books, or new resources are added to Parkinson's Disease News, please double click on E-MAIL NOTIFICATION, or e-mail [email protected]. No form of identity is required. E-mail addresses are not used for any other purpose.
Parkinson's Disease News details all significant new research, news reports, new books, and new resources concerning Parkinson's Disease and those medical disorders that often coincide with Parkinson's Disease. It is compiled from an analysis of all newly published research, news reports, new clinical trials, all newly published books, and new web sites. A summary and analysis of the new research are provided, as well as links to the complete abstracts and news reports.