15th May 2009 - New book
LIFE WITH A BATTERY-OPERATED BRAIN : A PATIENT'S GUIDE TO DEEP BRAIN STIMULATION SURGERY FOR PARKINSON'S DISEASE
Jackie Hunt Christensen

Publisher's description : Why would anyone say "Let's stick wires into someone's brain, run voltage through it, and see what happens!" ? Author Christensen answers this question and more in her unique and comprehensive book, as she has firsthand knowledge of the procedure commonly referred to as DBS. She herself lived with Parkinson's disease for more than seven years before electing to be evaluated for DBS surgery. It was not a fast and easy choice.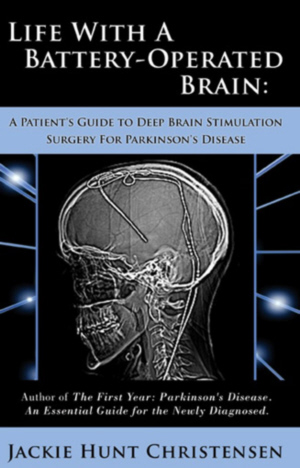 For Christensen, a fear of DBS surgery, which involves placing one or two electrical wires inside the brain, and its potential complications had to be weighed against quality of life without the surgery, a life of increasing parkinsonian symptoms and a growing pharmacopeia of medications, which might help control her symptoms but which could have devastating long-term effects on her body. Ultimately, she was deemed a good candidate for the surgery, and DBS seemed like her only logical option – a choice that has been validated post-surgery, as Christensen now enjoys life with most of her motor symptoms well controlled. Parkinson's disease, the author is quick to point out, does not end, but DBS is meant to be a long-term treatment. Jackie Hunt Christensen offers a step-by-step look at her own journey, as well as offering information on a typical evaluation process, medical statistics, questions to ask neurosurgeons, opinions from other DBS patients, the programming process for DBS, and much more. For more details click here
. For more current news go to Parkinson's Disease News.
E-MAIL NOTIFICATION : If you would like to be notified by e-mail when any new research, news reports, new books, or new resources are added to Parkinson's Disease News, please double click on E-MAIL NOTIFICATION, or e-mail [email protected]. No form of identity is required. E-mail addresses are not used for any other purpose.
Parkinson's Disease News details all significant new research, news reports, new books, and new resources concerning Parkinson's Disease and those medical disorders that often coincide with Parkinson's Disease : Parkinsonism, Essential Tremor, Dystonia, Restless Legs Syndrome. It is compiled from an analysis of all newly published research, news reports, new clinical trials, all newly published books, and new web sites. A summary and analysis of the new research are provided, as well as links to the complete abstracts and news reports.