4th March 2009 - New research
THE HIGH PREVALENCE OF OSTEOPOROSIS IN PARKINSON'S DISEASE
Rheumatology International [2008] 28 (12) : 1205-1209 (Bezza A, Ouzzif Z, Naji H, Achemlal L, Mounach A, Nouijai M, Bourazza A, Mossadeq R, El Maghraoui A.) Complete abstract

In Osteoporosis, the density of bone decreases and so makes people prone to getting bone fractures. For more information go to Osteoporosis. One in six people (17%) with Parkinson's Disease were found to have already developed Osteoporosis. Over half of all people (54%) with Parkinson's Disease have been found to have osteopenia, which is low bone density, as is shown on the right hand photograph. Osteopenia often develops in to Osteoporosis. For more information go to Osteopenia.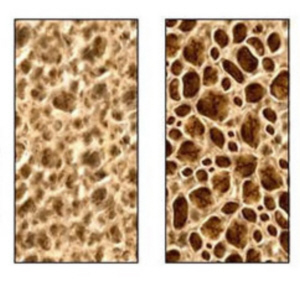 Due to the proneness to falling that some people with Parkinson's Disease have, the risk of fractures becomes even greater in those people that also have Osteoporosis. The biochemistry of Parkinson's Disease and Osteoporosis do not coincide at all. Yet Osteoporosis was found to be related to the severity of Parkinson's Disease. It also becomes more likely with age. It is also related to low calcium intake, and insufficient sun exposure. Sun exposure is a source of vitamin D, which is essential for bone formation. It is possible to improve bone formation by increasing calcium intake (such as from milk products), and by taking a supplement that includes vitamin D.
more current PARKINSON'S DISEASE NEWS
E-MAIL NOTIFICATION : If you would like to be notified by e-mail when any new research, news reports, new books, or new resources are added to Parkinson's Disease News, please double click on E-MAIL NOTIFICATION, or e-mail [email protected]. No form of identity is required. E-mail addresses are not used for any other purpose.
LOW RESOLUTION VERSION : There is a low resolution version of this page INTENDED FOR THOSE PEOPLE THAT EITHER : use 800x600 resolution on their monitors, or have eyesight difficulties, or have slow Internet speeds. GO TO LOW RESOLUTION VERSION
Parkinson's Disease News details all significant new research, news reports, new books, and new resources concerning Parkinson's Disease and those medical disorders that often coincide with Parkinson's Disease : Parkinsonism, Essential Tremor, Dystonia, Restless Legs Syndrome. It is compiled from an analysis of all newly published research, news reports, new clinical trials, all newly published books, and new web sites. A summary and analysis of the new research are provided, as well as links to the complete abstracts and news reports.