20th February 2009 - New research
STEM CELL SURGERY FAILS TO RID PARKINSON'S DISEASE
The Open Stem Cell Journal [2009] 1 : 20-29 (M.F.Lévesque, T.Neuman, M.Rezak)
Complete study
Researchers have published what is described as "a landmark peer-reviewed paper" that details "the first successful adult neural stem cell transplantation to reverse the effects of Parkinson's Disease". For more information go to the News release. However, the study involved only one patient, and surgical operations for Parkinson's Disease are renowned for their strong placebo effect. That patient's symptoms appeared to reduce by around 80%. However, the patient still had to remain on Parkinson's Disease drugs. After five years they had symptoms that were worse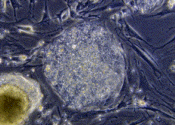 than when they started, and that were deteriorating rapidly. This completely nullifies claims of the operation being "landmark" or "successful". Stem cell operations have been carried out around the world. Yet nobody has come away from them rid of Parkinson's Disease. This is not surprising, because the use of stem cell surgery is based on the false assumption that there is massive cell loss in Parkinson's Disease and that replacing lost cells is the logical means of treating it. However, not a single study in the entire medical literature has shown that there is massive cell loss in Parkinson's Disease.
more current PARKINSON'S DISEASE NEWS
E-MAIL NOTIFICATION : If you would like to be notified by e-mail when any new research, news reports, new books, or new resources are added to Parkinson's Disease News, please double click on E-MAIL NOTIFICATION, or e-mail [email protected]. No form of identity is required. E-mail addresses are not used for any other purpose.
LOW RESOLUTION VERSION : There is a low resolution version of this page INTENDED FOR THOSE PEOPLE THAT EITHER : use 800x600 resolution on their monitors, or have eyesight difficulties, or have slow Internet speeds. GO TO LOW RESOLUTION VERSION
Parkinson's Disease News details all significant new research, news reports, new books, and new resources concerning Parkinson's Disease and those medical disorders that often coincide with Parkinson's Disease : Parkinsonism, Essential Tremor, Dystonia, Restless Legs Syndrome. It is compiled from an analysis of all newly published research, news reports, new clinical trials, all newly published books, and new web sites. A summary and analysis of the new research are provided, as well as links to the complete abstracts and news reports.