5th July 2008 - New research
CALCIUM channel BLOCKERS - A CAUSE OF PARKINSON'S DISEASE
Parkinsonism Related Disorders [1998] 4 (4) : 211-214 (Garcia-Ruiz PJ, Javier Jimenez-Jimenez F, Garcia de Yebenes J.) Complete abstract
Calcium channel blockers are drugs that are widely used to reduce high blood pressure. For more information go to Calcium channel blockers. The symptoms of Parkinson's Disease are a frequent side effect of some calcium channel blockers (CCB). CCB-induced Parkinsonism usually improves spontaneously after discontinuation of the offending drug, but many patients still exhibit persistent symptoms after their withdrawal. It is not known whether Parkinsonism caused by Calcium channel blockers represents sub-clinical Parkinson's disease unmasked by drugs.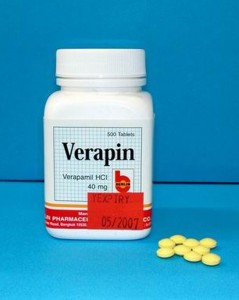 Researchers studied the development of patients with CCB-induced Parkinsonism, and compared their clinical characteristics with those people with idiopathic Parkinson's Disease. Most patients with CCB-induced Parkinsonism improved spontaneously. Two years after Calcium channel blocker withdrawal, only 14% exhibited akinetic rigid syndrome. However, 92% of them still had tremor. Those people whose Parkinson's Disease symptoms were caused by Calcium channel blockers differed from other people with Parkinson's Disease in: age at onset (averaging 70 years old rather than 59 years old), presenting symptom (tremor at first evaluation being more common), and a far more common history of arterial hypertension.
more current PARKINSON'S DISEASE NEWS
E-MAIL NOTIFICATION : If you would like to be notified by e-mail when any new research, news reports, new books, or new resources are added to Parkinson's Disease News, please double click on E-MAIL NOTIFICATION, or e-mail [email protected]. No form of identity is required. E-mail addresses are not used for any other purpose.
LOW RESOLUTION VERSION : There is a low resolution version of this page INTENDED FOR THOSE PEOPLE THAT EITHER : use 800x600 resolution on their monitors, or have eyesight difficulties, or have slow Internet speeds. GO TO LOW RESOLUTION VERSION
Parkinson's Disease details all significant new research, news reports, new books, and new resources concerning Parkinson's Disease and those medical disorders that often coincide with Parkinson's Disease : Parkinsonism, Essential Tremor, Dystonia, Restless Legs Syndrome, and Dementia. It is compiled from an analysis of all newly published research, news reports, new clinical trials, all newly published books, and new web sites. A summary and analysis of the new research are provided, as well as links to the complete abstracts and news reports.