3rd June 2008 - New research

functional electrical stimulation (FES)

Neuromodulation [2008] 11 (2) : 143-149 (G.E.Mann, S.M.Finn, P.N.Taylor) Complete abstract

The use of electrical impulses to stimulate weak or paralyzed muscles, called Functional Electrical Stimulation (FES), is often used to help stroke or multiple sclerosis patients to walk. For more information go to

Functional electrical stimulation. Many people with Parkinsonís are prone to tripping and falling because they have difficulty picking up their feet consistently. They also can have difficulty with starting and maintaining walking. This study aimed to investigate the effect of Functional Electrical Stimulation (FES) on walking ability in people with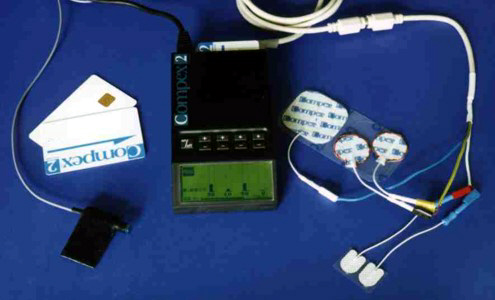 Parkinson's disease. People with idiopathic Parkinson's disease received electrical stimulation for eight weeks to the common peroneal nerve to improve heel strike and provide sensory stimulus during walking. An immediate improvement was demonstrated with FES on distance and average stride length during a short walk during the treatment period, but not on the number of steps and walking speed during a longer walk. A training effect was observed for all measures of walking ability. Fewer falls and episodes of freezing occurred during the treatment period. The number of falls returned to pre-treatment levels when treatment was stopped.

more current PARKINSON'S DISEASE NEWS

E-MAIL NOTIFICATION : If you would like to be notified by e-mail when any new research, news reports, new books, or new resources are added to Parkinson's Disease News, please double click on E-MAIL NOTIFICATION, or e-mail [email protected]. No form of identity is required. E-mail addresses are not used for any other purpose.

Parkinson's Disease details all significant new research, news reports, new books, and new resources concerning Parkinson's Disease and those medical disorders that often coincide with Parkinson's Disease : Parkinsonism, Essential Tremor, Dystonia, Restless Legs Syndrome, and Dementia. It is compiled from an analysis of all newly published research, news reports, new clinical trials, all newly published books, and new web sites. A summary and analysis of the new research are provided, as well as links to the complete abstracts and news reports.