10th April 2008 - New research
DEMENTIA AND SURVIVAL IN PARKINSON'S DISEASE
Neurology [2008] 70 (13) : 1017-1022 (Buter TC, van den Hout A, Matthews FE, Larsen JP, Brayne C, Aarsland D.) Complete abstract

The risk of dementia in Parkinson disease is high, with important clinical consequences for people with Parkinson's Disease. However, the absolute risk of dementia and how it affects survival in Parkinson's Disease were not known. Researchers assessed the prevalence of Parkinson's Disease with dementia as people age. Over 60% of people with Parkinson's Disease were eventually found to also have dementia. The cumulative incidence of dementia was found to steadily increase with age and duration of Parkinson's Disease. So for those that live until 90 years of age the likelihood of dementia increases to 80% to 90%. Women live with Parkinson's Disease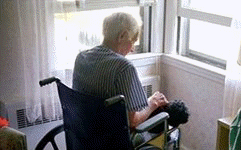 longer than men and spend more years with dementia. At the age of 70, a man with Parkinson's Disease but no dementia has a life expectancy of 8 years, of which 5 years would be expected to be dementia free and 3 years would be expected to be with dementia. Although dementia was found to be common in Parkinson's Disease, and appear almost inevitable in the oldest of sufferers, no comparison was made with the general population to see if people without Parkinson's Disease were almost as likely to develop dementia. Parkinson's Disease is biochemically distinct from dementia. So there is no inevitable reason why they should coincide.
more current PARKINSON'S DISEASE NEWS
E-MAIL NOTIFICATION : If you would like to be notified by e-mail when any new research, news reports, new books, or new resources are added to Parkinson's Disease News, please double click on E-MAIL NOTIFICATION, or e-mail [email protected]. No form of identity is required. E-mail addresses are not used for any other purpose.
LOW RESOLUTION VERSION : There is a low resolution version of this page INTENDED FOR THOSE PEOPLE THAT EITHER : use 800x600 resolution on their monitors, or have eyesight difficulties, or have slow Internet speeds. GO TO LOW RESOLUTION VERSION
Parkinson's Disease details all significant new research, news reports, new books, and new resources concerning Parkinson's Disease and those medical disorders that often coincide with Parkinson's Disease : Parkinsonism, Essential Tremor, Dystonia, Restless Legs Syndrome, and Dementia. It is compiled from an analysis of all newly published research, news reports, new clinical trials, all newly published books, and new web sites. A summary and analysis of the new research are provided, as well as links to the complete abstracts and news reports.