27th August 2016 - New research
SMALL AND LARGE FIBER NEUROPATHY IN PARKINSON'S DISEASE
CLICK HERE
FOR A PRINTABLE OR WHITE BACKGROUND VERSION OF THIS ARTICLE
Recent studies have reported that peripheral neuropathy is common in people with Parkinson's Disease and raised the possibility that L-dopa neurotoxicity is the main culprit. Peripheral neuropathy develops when nerves in the body's extremities, such as the hands, feet and arms, are damaged. This can cause numbness and tingling in the feet or hands, burning pain in affected areas, and muscle weakness, especially in the feet. For more information go to : Neuropathy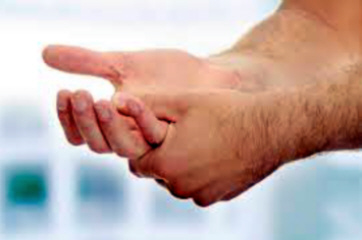 In people with Parkinson's Disease, neuropathy screening was carried out, including neurological examination, nerve conduction studies and skin wrinkling tests. Two of the tests showed that 57% and 42% of people with Parkinson's Disease had abnormal results that indicated polyneuropathy. The prevalence in people with a Parkinsonism was similar to people with Parkinson's Disease but the results were less severe. The results showed that polyneuropathy was more common in Parkinson's Disease than previously assumed, but the cause was not solely attributed to taking L-dopa.
The researchers concluded that large fiber and small fiber polyneuropathy are common in people with Parkinson's Disease. However, instead of concluding that the cause was L-dopa, the cause of the neuropathy was thought to be multifactorial. Neuropathy was previously related to age, vitamin B12 deficiency, serum folate levels, and especially L-dopa use.
Reference : BMC Neurology [2016] 16 : 139 (D.F.de Araújo, A.P.de Melo Neto, I.S. Oliveira, B.S.Brito, I.T.de Araújo, I.S.Barros, J.W.Lima, W.G.Horta, FdeA.Gondim) Complete abstract In order to refer to this article on its own click here
21st August 2016 - New research
NASAL GEL MAGNIFIES PARKINSON'S DISEASE DRUG EFFECTS
CLICK HERE
FOR A PRINTABLE OR WHITE BACKGROUND VERSION OF THIS ARTICLE
A nasal gel has been developed that can greatly increase the bioavailability of ropinirole. Ropinirole (Requip), which is a dopamine agonist for the treatment of Parkinson's Disease, normally has low bioavailability when it is taken orally. For more information go to : Ropinirole
Thermoreversible nasal gels were prepared and formulations were evaluated for various parameters such as gelling time, gelling temperature, gel strength, adhesive force, diffusion, and bioavailability. Formulations displayed gelling at nasal temperature and the time was found to be less than the time taken to clear the gel. The time the gel spent nasally increased due to mucoadhesion and increased gel strength. Nasal gel formulations showed drug release between 56% and 100% within 5 hours. The gel had a protective effect on the mucosa unlike plain ropinirole which showed evidence of moderate cellular damage.
The bioavailability of ropinirole in the brain was increased by five times when administered nasally using the gel when compared to intravenous administration. Thermoreversible nasal gel was consequently found to be a promising means of increased drug delivery for Parkinson's Disease.
Reference : Drug Development and Industrial Pharmacy [2016] Aug 17 : 1-34 [Epub ahead of print] (M.Rao, D.K.Agrawal, C.Shirsath) Complete abstract In order to refer to this article on its own click here