16th June 2016 - New research
MIRROR MOVEMENTS IN PARKINSON'S DISEASE
CLICK HERE
FOR A PRINTABLE OR WHITE BACKGROUND VERSION OF THIS ARTICLE
Over 95% of people with Parkinson's Disease have been found to experience mirror movement. Mirror movement is a condition in which intentional movements of one side of the body are mirrored by involuntary movements of the other side. For example, when an affected individual makes a fist with the right hand, the left hand makes a similar movement. Mirror movements mainly involve upper limbs, especially the hands and fingers. For more information go to : Mirror movements
Around 90% or more of people with Parkinson's Disease exhibit mirror movements. Mirror movements are often reported in early Parkinson's Disease. There is a trend towards mirror movements when the symptoms of Parkinson's Disease are less severe not more severe. Mirror movements are usually a clinical feature of the unaffected or less affected side in mild Parkinson's Disease. A previous study found that mirror movements were actually less common in people with Parkinson's Disease.
Mirror movements reflect an abnormal enhancement of the "physiological mirroring" that can be observed in normal circumstances during complex and effortful tasks. It was hypothesized that, in Parkinson's Disease, enhanced mirroring is caused by a failure of basal ganglia output to support the cortical network that is responsible for the execution of strictly unimanual movements. Expression of overt mirror movement may be due to the combination of enhanced motor cortex excitability and an earlier onset of activation in the mirror hand.
Reference : Journal of Neurological Science [2016] 366 : 171-176 (P. Chatterjee, R.Banerjee, S.Choudhury, B.Mondal, M.U.Kulsum, K. Chatterjee, H.Kumar) Complete abstract In order to refer to this article on its own click here
8th June 2016 - New book
EVERYTHING YOU NEED TO KNOW ABOUT CAREGIVING FOR PARKINSON'S DISEASE
Lianna Marie
CLICK HERE
FOR A PRINTABLE OR WHITE BACKGROUND VERSION OF THIS ARTICLE
Publisher's description : This comprehensive guide answers your most important questions about caring for someone with Parkinson's Disease. Written in easy to understand every day English, this book is the result of 25 years experience and research in living a life with Parkinson's Disease. Filled with information, tips and helpful hints on a wide range of topics, Caregiving for Parkinsonís will help guide you through all the many stages of caregiving. Inspired by her mom who has lived with and battled the disease for 25 years, author Lianna Marie wrote this book and founded the website AllAboutParkinsons.com.
The website has had over one million visitors and the book has been sold in 47 countries worldwide. Click here for more details For more books concerning Parkinson's Disease go to Parkinson's Disease books
3rd June 2016 - News report
MUHAMMAD ALI HAS DIED WITH PARKINSON'S DISEASE
CLICK HERE
FOR A PRINTABLE OR WHITE BACKGROUND VERSION OF THIS ARTICLE
Muhammad Ali (1942-2016), the three time World Heavyweight boxing champion, has died with Parkinson's Disease. He was hospitalized on 2nd June 2016 with a respiratory condition. His condition was initially described as fair. However, the following day his condition worsened and he was placed on life support. His condition did not improve. Late on 3rd June 2016 it was announced that Muhammad Ali had died at the age of 74. A funeral will be held in his hometown of Louisville, Kentucky.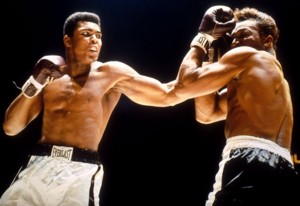 Muhammad Ali became Olympic champion in 1960 at the Rome Olympics. In 1964 he became the youngest world heavyweight champion by beating Sonny Liston. In 1967, he was stripped of his world heavyweight title for refusing to be drafted into the U.S. Army, because of his conscientious objections. He was allowed to resume boxing again in 1970. In 1974 he regained the world heavyweight title by beating George Foreman, and retained it the following year against Joe Frazier. In 1978 he lost the title to Leon Spinks but regained it the same year before relinquishing the title.
He was diagnosed with Parkinson's Syndrome in 1984 at the age of 42. In 1996, with very apparent Parkinsonian symptoms, he lit the flame at the Summer Olympics in Atlanta. In 1997 he set up The Muhammad Ali Parkinson Center to help people with Parkinson's Disease. In 2012, he was a bearer of the Olympic Flag during the opening ceremonies of the 2012 Summer Olympics in London. He was helped to his feet to stand before the flag due to the deterioration of his Parkinson's Disease. After further deteriorations in his health over the next few years he died at the age of 74. In order to refer to this article on its own click here